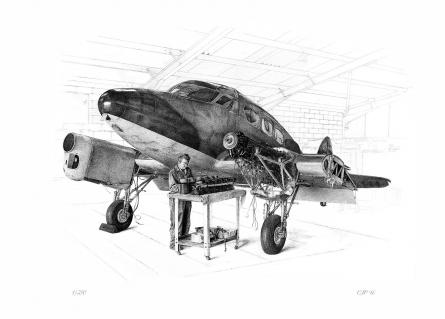 Limited Edition art print  'Restoration of the Last Q6'.
The sole surviving example of its type, Percival Q6 G-AFFD was delivered to Sir Philip Sassoon on 2 March 1938. She was impressed into the RAF for the duration of World War Two, spending 1940 with No 6 Anti Aircraft Co-Operation Unit, training the Air Defences of Manchester, Liverpool and North Wales. Given military serial X9407, she spent the remainder of the War as a VIP transport aeroplane at a variety of RAF stations. G-AFFD is currently under restoration by Rex Ford, and is illustrated here in his hangar with craftsman James Murdoch Smith preparing the De Havilland engine piston blocks prior to rebuild.
Available in black and white. All prints are hand signed and numbered by the artist CJP and come with a certificate of authenticity.
Giclée print on Somerset Rag acid free archival paper, made from 100% cotton fibre using a traditional mould.

A3+ b&w - Limited to 250 prints.
A2 b&w - Limited to 250 prints.
Price includes First Class Registered Delivery.