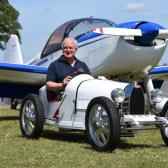 CHRIS THOMPSON
Chris has been flying since 1985 and first flew a Tiger Moth, at the Royal Air Force College Cranwell, in 1986.  After qualifying as a flying instructor in 1988, the RAF decided it was time he learned to drive! Chris' RAF career included engineering, Flight Safety and International Relations, after which he worked briefly as a freelance pilot on a variety of historic and aerobatic aeroplanes, including the Harvard, Twin Pioneer,  Antonov An2 and CAP10.  A year flying freight in darkest West Africa was followed by 4 years with a European regional airline and over 5 years with a major middle eastern airline.  Chris has been flying the public in vintage and aerobatic aeroplanes since 2000 and has enjoyed the privilege of flying many World War Two veterans, including former fighter pilots, bomber crews and engineers.  He also displays all aircraft in the Finest Hour fleet.  Despite his breadth of experience, Chris claims that nothing puts a smile on a customer's face quite like a ride in the iconic Tiger Moth.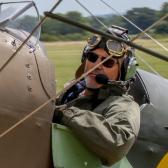 PAUL SHENTON
'Shents' RAF service included 3 tours as a pilot and instructor on the Tornado F3, during which he displayed the Spitfire and Hurricane with the Battle of Britain Memorial Flight.  Currently a training captain with a major UK airline, on 28 August 2010, Paul led the Airbus / Spitfire / Hurricane formation to commemorate the 70th Anniversary of the Battle of Britain; he remains current on a locally based Hurricane.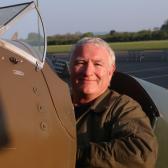 CLIFF NICHOL
After a tour flying the best V-Bomber, the Victor, in the Air-to-Air Refuelling role, Cliff instructed on the Jet Provost and Hawk before converting to the Tornado F3, on which he served 2  tours, including one as an instructor.  Throughout his RAF career, Cliff flew the Chipmunk and remains current on his own example.  After leaving the RAF, Cliff served as a reservist for 5 years, instructing on the Tornado F3, whilst pursuing his airline career. Subsequently, he instructed on the Jet Provost and a variety of light aeroplanes; he also continues to find time to fly the Boeing 777 for a major airline.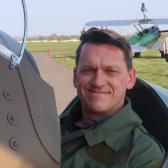 CHRIS POTE
'Creamed Off' for his first RAF flying tour as an instructor on the Tucano, Potey's RAF flying career has been split between the Tucano and the Tornado GR4.  Currently flying a 'mahogany bomber', Chris built his own Eurofox light aeroplane and flew it from the UK to New Zealand as part of the RAF 100th Anniversary celebrations during Autumn 2018.  Fresh from his antipodean adventure, Chris joins Finest Hour to fly the Tiger Moth for 2019.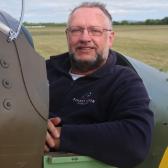 PAUL CARR
Paul has been flying since 1976.  He joined the RAF through a University Cadetship, at which time he was bitten by the aerobatic bug!  Paul's RAF career, though mainly involving transport aircraft, included flying instruction for both ab-initio students and new instructors and he spent a season displaying the Bulldog primary trainer at airshows in the UK and on the near continent.  He spent nearly 20 years in the RAF and has just retired from a similar spell flying Boeings various for a major UK airline.  Paul has been flying light aircraft throughout this time, including the CAP10B since 2003.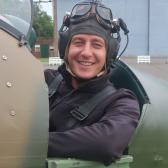 ADAM LACEY
Adam's RAF service included 2 tours as a Tornado GR4 Weapons Systems Officer,  completing operational tours in Libya, Afghanistan and Iraq. After leaving the RAF, 'Ads' joined a major airline, where he flies the Airbus A320.  Subsequently qualifying as a flying instructor, Adam joined Finest Hour to fly the Tiger Moth during 2021.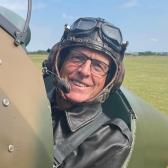 MARK WHITE
'Stretch' was born into the family light aeroplane business in Weston-Super-Mare.  His RAF career was spent flying the C130 Hercules in the tactical transport role, including operational missions during the Gulf War and Bosnia conflicts.  Stretch's post-RAF career started with a brief stint flying the Boeing 747 for a Far Eastern airline before joining a major UK airline to fly both Airbus and Boeing types.  His broad experience of vintage light aviation includes instructing on the Stearman and Harvard and the joy of flying his own Isaacs Fury biplane. 'Stretch' joined Finest Hour to fly the Tiger Moth during 2022.
IAN CHURCHILL
Ian started gliding at Hinton-in-the Hedges while still at school, before learning to fly with an RAF University Air Squadron.  Apart from a tour as an instructor, flying the Jet Provost and Tucano, he spent his entire RAF career flying the C130 Hercules in the tactical transport role.  On leaving the RAF, Ian continued to fly the C130, this time in the oil slick dispersal role, including the Deepwater Horizon tragedy.  Subsequently, he qualified on the Boeing 737 and now flies the Airbus A300 as an examiner.  He is also one of a very small band of civilian Hercules examiners.  Ian's off-duty flying has included civilian Jet Provosts, Strikemasters and Hunters, so it was about time he graduated to the Tiger Moth with Finest Hour.
GRAHAM PASS
Graham is Finest Hour's 'heavy metal' specialist. During an aviation career lasting over 30 years, he has gained substantial experience as an instructor and examiner on aeroplanes ranging from the smallest light aeroplanes to the largest jet transports. Formerly a Civil Aviation Authority Flight Ops Inspector, where his responsibilities ranged from heavy historic aeroplanes to Unmanned Aerial Systems, Graham then spent 4 years as a wide body examiner in the Middle East, before returning home to England's green and pleasant land to fly as an examiner on the mighty Boeing 747 and now the Boeing 787. He has also displayed the Fouga Magister jet trainer.
BILL PERRINS
Billeus was presented with his RAF 'wings' by Sir Douglas Bader and went on to complete his first tour flying the Vulcan bomber, including the Falklands conflict.  After a period as an instructor on the Jet Provost, Bill converted to the Tornado F3.  Throughtout his RAF career, he maintained his passion for vintage aircraft by flying Air Experience Flight Chipmunks in addition to his other duties.  Bill's post RAF career has seen him flying the Boeing 747, 757, 767 and his current mount, the 787 which he flies as a Training Captain.  Bill has displayed various aerobatic light aeroplanes, the Mustang, Spitfire and, of course, the Vulcan.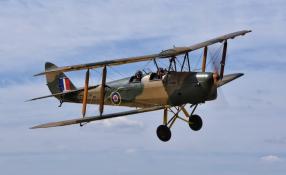 TIGER MOTH
The de Havilland Aircraft Company developed and first flew the Tiger Moth in 1931, and it went on to be arguably the most successful biplane training aeroplane ever built, training thousands of pilots during the Second World War. Tiger Moths played a crucial role in the Battle of France, acting as one of the few reliable means of communication in a land where the roads were blocked by the ravages of war.
Find out more about the history of our Tiger Moths here.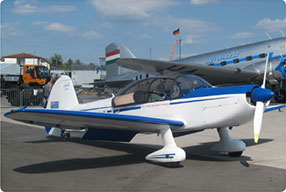 MUDRY CAP10
Hand built in wood by Norman craftsmen, the CAP10 has to be the finest aerobatic training aeroplane ever built. Used in numbers by the French Air Force, the Armee de L'Air, it outperforms its British equivalent in all respects while using an engine of 10% less power.  The CAP10B is a true thoroughbred that has helped many of Europe's leading aerobatic pilots to learn their craft.  The superb visibility from the CAP's 'bubble' canopy and its reassuring side-by-side seating are just two of the features making the CAP the perfect choice for your Finest Aerobatic Experience.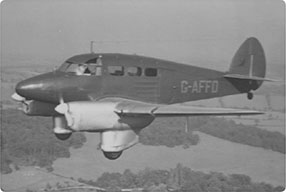 PERCIVAL Q6
The sole surviving example of its type, G-AFFD was delivered to Sir Philip Sassoon on 2 March 1938. She was Impressed into the RAF for the duration of World War Two, spending 1940 with No 6 Anti Aircraft Co-Operation Unit, training the Air Defences of Manchester, Liverpool and North Wales. Given military serial X9407, she spent the remainder of the War as a VIP transport aeroplane at a variety of RAF stations.   G-AFFD is currently under restoration by our partner in her ownership, Rex Ford. To learn more about her history and those who flew her, click here.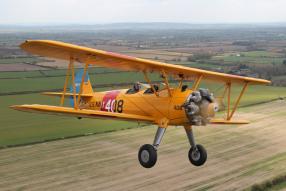 STEARMAN
The Stearman was the American equivalent of the Tiger Moth and trained many pilots, both American and British during WW2.  If you've already flown the Tiger or fancy experiencing the distinctive sound of a 7-cylinder radial engine, this is the machine for you; more on 'Navy 408' here...