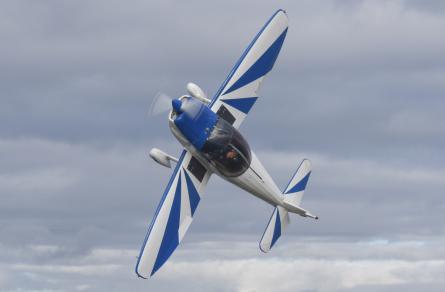 It's been described variously as the ultimate adrenaline rush and the best fun you can have with your clothes on! You've seen the manoeuvres at the airshows and now its time to have a go yourself! Your mount is the superb CAP10, the finest aerobatic trainer ever built, while your highly-experienced instructor is more than likely to have done his share of displays. Once you've been shown the effects of 'G' Force and how to use the aeroplane's controls, you'll be introduced to the 3 basic manoeuvres - the loop, roll and stall turn - of course, you'll have the opportunity to fly these yourself! There's usually time for an additional exercise before we have to land, with many people opting to experience an aerobatic sequence – and we can make that as smooth and elegant – or as wild – as you'd like.
Flight duration: 25 minutes
"A unique experience in the sky that every girl should enjoy at least once in her lifetime. A feeling resembling SUPERMAN taking his girlfriend up in the sky. Woooooooo!" - Vivian


"Within minutes of sitting in a cockpit for the first time ever I was already in control of the aeroplane! Chris was amazingly calm given I was an absolute novice and the adrenaline rush I got after my first loop-the-loop was like nothing on earth. I want to do it all over again!" - Susannah
http://www.youtube.com/watch?v=ljdjM8vybEw
This experience flies from Bicester Airfield, Bicester, Oxon., OX26 5HA and Cotswold Airport, Cirencester GL7 6BA
Minimum age 14 years. Maximum weight 18 stone. Participants should be between 4'11'' & 6'7'' and be agile enough to get in and out of the aircraft. For full terms please click here.