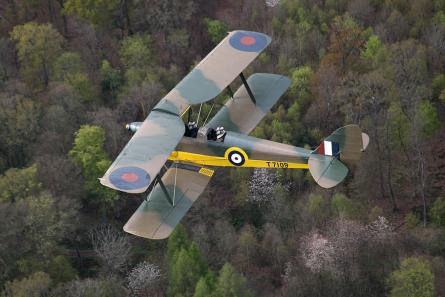 Your Midsomer Murders Tiger Moth flying lesson tour follows Inspector Barnaby to Wallingford, whose Corn Exchange and market place appear frequently as Causton Playhouse. On to Dorchester, whose Abbey is really 'Midsomer Newton Museum', before turning North East to try your hand at flying the Tiger to Thame, much featured in the series, before turning for Chinnor, whose railway station featured in 'Death in a Chocolate Box'. South to Nettlebed, whose hotel and village hall will look familiar to Barnaby's followers, before skirting Henley, whose regatta was attended by the Barnabys during 'Dead in the Water'. Next is 'Badgers Drift Primary School' at Rotherfield Peppard, before passing Mapledurham House, featured in the recent series, to round off this full but thoroughly memorable introduction to the historic de Havilland Tiger Moth.
Flight duration: 45 minutes
Minimum age 14 years. Maximum weight 18 stone. Participants should be between 4'11'' & 6'7'' and be agile enough to get in and out of the aircraft. For full terms please click here.