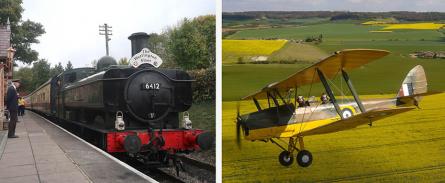 We've teamed up with the Chinnor and Princes Risborough Railway to offer the most amazing packages - the opportunity to drive a steam train and fly a Tiger Moth on the same day!  We've named it the 'Watlington Flyer' in honour of the former steam route from Princes Risborough to Watlington in Oxfordshire. 
The Silver Package includes driving the train for a return journey along the branch line, paired with a 15 minute Tiger Moth flying lesson. Learn to drive the train for two return journeys and fly the 'Chinnor Special' route over the railway line as your Tiger Moth lesson for the Gold Package.  The Platinum package gives you exclusive access to the train for four complete runs and a full hour's flying lesson in the Tiger.
All packages include a special presentation pack to commemorate your day, including a film available only to those who receive a Watlington Flyer package, 'train with aeroplane' photographs both ancient and modern and a commemorative certificate.
Vouchers are available for the following dates during 2018:
April 14
May 12
June 23
July 21
September 1
October 6
Driving the train occurs at Chinnor Railway, Station Road, Chinnor, OX39 4ER; the Tiger Moth lessons fly from Chiltern Park Aerodrome, Ipsden, Wallingford OX10 6AS, with evening flights available at Bicester Heritage, Buckingham Road, Bicester OX27 8AL
Save
Save