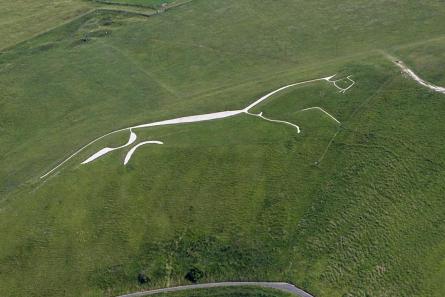 Setting off from Wallingford's picturesque Chiltern Park airfield and its unspoilt view of the beautiful Chiltern Hills, the first leg of your exploration of ancient English history gives you ample time for your instructor to introduce you to controlling your classic Tiger Moth biplane as you travel West over the Berkshire Downs. Now its time to fly yourself over a feast of Oxfordshire's archaeological treasures. Your first turning point is Alfred's Castle, an Iron Age hill fort close to the site of King Alfred's victory over the Danes at the Battle of Ashbury in 871AD.
From here, we head North East, taking in the neolithic barrow and tomb at Wayland's Smithy, the Iron Age Uffington Castle and the striking chalk-cut prehistoric figure of the Uffington White Horse, England's oldest White Horse. Wikipedia states that the best view of this impressive monument is from the air and who are we to argue?! Don't miss Dragon Hill; legend states that this is where St George slew the Dragon - a more English story is hard to imagine! Passing the historic battlefield of Gainfield, our final attraction in the Vale of the White Horse is Danish King Canute's hideout at Cherbury Camp, but before we return to Chiltern Park, we have a couple of surprise archaeological sites for you during the return journey, but we'll save the detail of those for the Day!
Flight duration: 60 minutes
Minimum age 14 years. Maximum weight 18 stone. Participants should be between 4'11'' & 6'7'' and be agile enough to get in and out of the aircraft. For full terms please click here.
Save
Save
Save
Save
Save
Save
Save
Save